The Vanishing Sky (A Novel) by L. Annette Binder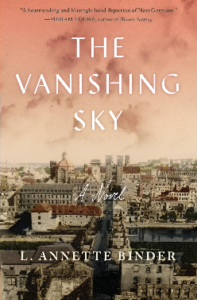 The Vanishing Sky (A Novel) – L. Annette Binder – 9781635574678 – Bloomsbury Publishing – Hardcover – 288 pages – July 21, 2020 – $27.00 – ebook versions for sale at lower prices
I did not know what to expect when I started reading The Vanishing Sky. Initially, I was looking forward to reading a book that did not focus on the victims of Nazi Germany, but on Germans themselves. Yet I found that it was much more difficult for me to get into than I anticipated. I am not sure why, but I resisted the book and almost set it aside. I wanted to not like the characters. I wanted to not be sympathetic to them, or their situation, my deep-seated antipathy toward mid-century Germany and its people emerging from my psyche.
The Vanishing Sky is about a family struggling to survive at a time when World War II is coming to an end. The focus of the book is on Etta Huber, a hausfrau in a small town, whose eldest son had joined the army and gone to fight in the east, now coming home a broken man, and whose younger son, is dreamier and unmilitaristic child-like, and struggles with the country's expectations for a German male. At the same time, Etta's husband is a difficult, quite traditional German man, a veteran of WWI, but who does not know how to act in his stage of life during wartime.
Binder is a fine writer who builds a slow burning fire from a few tiny sparks and I found myself fully engaged with her characters, and immersed in their lives as I continued reading this book. The story and the characters bring us face to face with uncomfortable realities. These are humans struggling to find their identities in horrible circumstances, where there is nothing approaching normality. And of course, as it is set in Germany in the very final months of World War II, it is not a typical war novel. The book is about the people on the home front and it becomes impossible to not feel an uncomfortable resonance to our own time.
It was truly a pleasure to speak with Annette about this remarkable novel and I will be looking forward to reading her next book.
The Vanishing Sky quietly sneaks up on the reader and makes us confront our understanding of ourselves with carefully wrought details and a surprising story line. It's a rewarding novel that requires attention from the reader that is fully rewarded in the end.
"The Vanishing Sky reveals the German home front as I've never seen it in fiction… Binder tells her story patiently, like an artist placing tiny pieces into a mosaic; this literary novel isn't one to race through. But I find it gripping, powerful, and a brave narrative, unsparing in its honesty." — Larry Zuckerman, Historical Novels Review
Annette Binder was born in Germany and grew up in Colorado. The Vanishing Sky is her first novel, inspired by her family's experiences in World War II Germany. Her collection of short stories, Rise, received the Mary McCarthy Prize in Short Literature. Annette has degrees from Harvard, UC Berkeley and the Programs in Writing at the University of California, Irvine. She lives in New England.
Buy the book at Bookshop.org.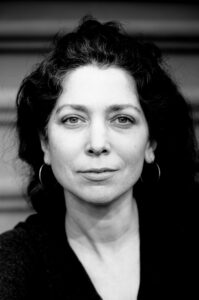 The post The Vanishing Sky (A Novel) by L. Annette Binder first appeared on WritersCast.