Susan Napier: Miyazakiworld: A Life in Art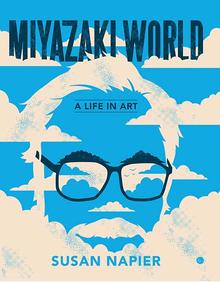 Miyazakiworld: A Life in Art – Susan Napier – 9780300226850 – Yale University Press – Hardcover – $30 – September 4, 2018 — 344 pages – illustrated – ebook versions available at lower prices
If you don't know about Miyazaki and his spectacular animated films, I recommend you immediately seek out and watch at least two or three of the best of his films by way of introducing yourself to one of the most original and influential cultural figures of the post WWII era.
And this book, Miyazakiworld: A Life in Art, will be your guide to this creative genius's oeuvre. Susan Napier brilliantly summarizes and analyzes Hayao Miyazaki's life and work. She reveals much about the external influences on his work, his own particular life during and after World War II in Japan, and explores his cultural impact on Japan and the rest of the world, particularly the United States. Of course, if you are already familiar with Miyazaki, and have absorbed some or all of his incredible work, this book will illuminate much about the creator that you did not know before.
A thirtieth-century toxic jungle, a bathhouse for tired gods, a red-haired fish girl, and a furry woodland spirit all spring from the mind of Hayao Miyazaki, now well-known for films such as My Neighbor Totoro, Princess Mononoke, Spirited Away, Howl's Moving Castle, and The Wind Rises.
Susan Napier is a professor at Tufts. She is a scholar specializing in contemporary Japanese culture. But this is not a dry academic explication of the master's work. Napier is truly a fan, and she is a culturally adept explorer with a deep knowledge and understanding both of Japanese culture in general and of animated films and other key forms of Japanese pop culture. Napier brilliantly connects the multiple themes present in Miyazaki's work, which features powerful female characters, is marked by environmental disasters, politically charged approaches to contemporary life, and a powerful sense of cultural and personal trauma and how to cope with it. She brings to life an understanding of an extremely complicated and sometimes mysterious individual, whose lifelong commitment to a unique artistic vision has transformed culture and art for millions of dedicated fans in Japan and all over the world.
Susan Napier is the Goldthwaite Professor of Rhetoric and Japanese Studies at Tufts University. She is the author of Anime from Akira to "Howl's Moving Castle": Experiencing Contemporary Japanese Animation, among other books.
It was my pleasure to have the opportunity to explore Miyazaki's work in conversation with Professor Napier. You can read more about Susan from the Tufts website here. There was an excellent review of this book in the Washington Post here. And here is a link to the book at the Yale University Press website.
The NY Times was kind enough to make a 2017 list of Miyazaki's films in order of importance – here.
Movie still from "Kiki's Delivery Service." (gkids/1989 Eiko Kadono – Studio Ghibli)
The post Susan Napier: Miyazakiworld: A Life in Art first appeared on WritersCast.