Stanley Flink: Due Diligence and the News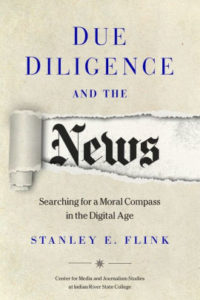 Due Diligence and the News: Searching for a Moral Compass in the Digital Age – Stanley Flink – Center for Media and Journalism Studies at Indian River State College – paperback – 978-0-578-60291-2 – 214 pages – $19.95 – 12/7/2019 – ebook editions available at lower prices.
I was recently introduced to Stan Flink by a mutual friend. I'd known of him for many years as he was a Yalie of some renown, a journalist for many years who later became the editor of the Yale Alumni Magazine and taught journalism at Yale and at other institutions of higher learning.
With his long experience, as a reporter, editor and lecturer, Stan knows and understands the importance of the news media to the functioning of American democracy. Still active at 95 years of age, Stan has worked as a journalist and editor for many years, in many different venues and platforms.
Flink recognizes that democracy has no life without truth. In fact, democracy is predicated on there being an educated and active citizenry, that tries to know as much as possible the truth and nature of events and human affairs. In Due Diligence and the News, Stan reviews, succinctly and gracefully, the relationship between the press and American civic life from colonial days to the digital age. In a series of interlocked essays, he demonstrates succinctly and clearly that while opinions may differ, facts are not optional. He discusses the important question of how it can be possible to assure publication based on verifiable facts without curtailing differing opinions. This is a central issue for us all to face – understanding and resolving the difference between fact and opinion. We need both elements to have equal weight in our political discourse, and we cannot dismiss either.
Some of the questions he raises include:
How can the media restore the trust of the reading/listening public?
Is it ever possible for the news media to create mechanisms, like the Hutchins Commission, that can make workable rules of self-governance and professional standards for itself?
Can government—international, national, state or local—serve as a watchdog on the media without violating the Constitution?
Can the news media, assuming it is truthful, do less than full due diligence in commenting on a public official?
These questions are addressed thoughtfully throughout this well-written book, but no one, not even Stan, can answer them conclusively and for all situations. Ultimately, as Stan takes a look forward into the digital age, the age of learned intelligence, he poses what may be as yet unanswerable questions about the future of the press in our fast-changing society. I think we have alot to learn from this book and the questions that Stan provides are ones we should be discussing far and wide as we try to heighten the importance of truth among our fellow citizens.
STANLEY FLINK grew up in a New Jersey. He entered Yale University a few months after Pearl Harbor and soon after enlisted in the Army. After service in the Pacific, he returned to Yale to continue his education. He graduated in 1948 and became a correspondent for Time, Inc. in New York and then in California, where he reported on such people as William Randolph Hearst, Richard Nixon, and the first appearances of Marilyn Monroe.
In 1958 he transferred to television news at NBC and later CBS. In 1962 he took up a series of assignments in London where he lived for eight years. In 1972 he returned to Yale to become the founding director of the Office of Public Information. From 1980 to 2010 he taught an undergraduate seminar called "Ethics and the Media." In 1994 he was awarded the Yale Medal.
Stanley Flink is the author of many articles and profiles, and among his books are a novel called But Will They Get It In Des Moines? about television, published by Simon & Schuster; and Sentinel Under Siege, an historical analysis of freedom of the press in America, published by Harper Collins.
Mr. Flink and his second wife (of 45 years) Joy, live in a retirement community in North Branford, Connecticut, where he still lectures on the media. Through it all, he has never lost his deep affection for golden retrievers. He celebrated his 95th birthday in May, 2019.
Watch this video of Stan talking about the ethics of journalism here.
Support independent bookselling by buying the book online from our friends at R.J. Julia Booksellers.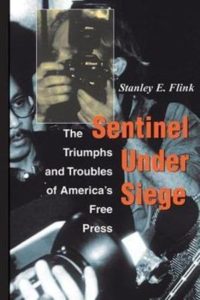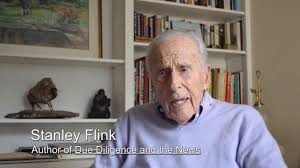 The post Stanley Flink: Due Diligence and the News first appeared on WritersCast.