Ryan Leigh Dostie: Formation: A Woman's Memoir of Stepping Out of Line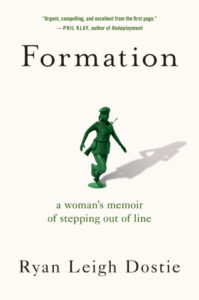 Formation: A Woman's Memoir of Stepping Out of Line – Ryan Leigh Dostie – Grand Central Publishing – Hardcover – 978-1538731536 – 368 pages – $28.00 – ebook versions available at lower prices – June 4, 2019
Ryan Leigh Dostie's story is sometimes a painful one to read, but it is too important to not read, and this is a book I can and must recommend to all readers. Ryan comes from an unusual background. She was raised in a women-run Christian community for most of her early life. Though she wanted to be a writer, she joined the Army after high school, trained to be a linguist, and was on the more or less normal course of a teenaged woman making her way in a male dominated military force, when she was raped by another soldier in her unit.
Her memoir recounts what happened to her, what she experienced subsequently, and how she lived through and was affected by, not only her personal trauma, but the experiences she shared with other soldiers in an active deployment in Iraq, where she was part of the first wave of the American invasion in 2003. It's a sometimes harrowing story, but also inspiring, raw and powerful, as Ryan does not flinch from showing everything she experienced and felt through a long period during and after her most powerful personal experiences in the Army.
This book does not overtly take a particular political position, despite the pain and suffering the author endured throughout her time during and after her service. But it is impossible to read this book and not be forced to think about so many of the issues around male-female relationships, power and how it is applied, the patriarchal structure that dominates our culture, and the work needed to change the way men and women interact on a daily basis.
This is the story of one woman's journey, as such, it is thoroughly compelling, but Formation cannot fail to affect anyone who reads it, and forces us to confront our own ingrained conceptual frameworks. Not only is the memoir a story of sexual assault in the narrow sense, Ryan's story provides a representation of how societal structures affect us all, how the individual is made to be responsible for the failures of our systems, and hopefully will help spur us all to think how we might engage in the struggle to change those structures and systems sooner than later.
I'd also add that Ryan is, has become, a very good writer. It emerges in her story that she was an aspiring novelist when she was young, and after soldiering, she went on to complete a college degree, as well as an MFA. The writing in this book is evidence of how far she has come in learning her craft.
Her "official" bio: Ryan Leigh Dostie is a novelist turned soldier turned novelist. As an Army Persian-Farsi/Dari Linguist in Military Intelligence, she was deployed to Iraq during Operation Iraqi Freedom I and II (2003-2004). She holds an MFA in fiction writing and a bachelor's degree in History from Southern Connecticut State University. FORMATION is her first book.
It was my pleasure and honor to interview Ryan Leigh Dostie in New Haven, Connecticut, where she lives today. Her website is well worth a visit – www.ryanleighdostie.com
"Though I knew it would be urgent, compelling, and excellent from the first page, Formation was a much more expansive book than I even could have suspected: a riveting, enraging memoir from an author of remarkable toughness and emotional range. This is an unflinching and honest account of war, of homecoming, and of what happens when a woman reports an assault and the institutions around her try to smother the truth." – Phil Klay, author of Redeployment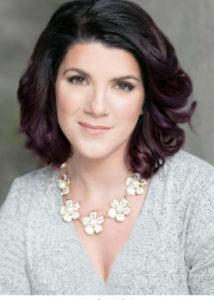 The post Ryan Leigh Dostie: Formation: A Woman's Memoir of Stepping Out of Line first appeared on WritersCast.