Peter Rock: The Night Swimmers (A Novel)
The Night Swimmers – A Novel – Peter Rock – ISBN 9781641290005 – Soho Press – Hardcover – 272 pages – $25.00 – March 12, 2019 – ebook versions available at lower prices.
As I have said here before, one of the things I like best about doing the Writerscast interviews is that it's introduced me to the work of many writers I would not have discovered on my own. The Night Swimmers is a perfect example. Peter Rock has been writing extremely fine fiction for many years, and yet I had never run across his work before, which still seems quite surprising to me, given the nature of his work.
Peter's autobiographical novel captured my imagination from the outset. The writing is luminous and personal, dreamy, yet descriptive. His narrator is a young aspiring writer living temporarily in beautiful Door County in the northern reaches of Wisconsin's Lake Michigan coastline. He's bit lost, maybe stuck in his inability to see himself as an adult. He meets a young widow, Mrs. Abel, who is, like him, not exactly clear about herself and who she wants to be. She is older, attractive, smart and mysterious. The narrator finds himself swimming with Mrs. Abel at night without really knowing why, although there is a strong undercurrent of attraction between them, a tension that defines the essential mystery of their relationship, and the way they swim in the depths of the lake across large distances is similar to the ebb and flow of the narrator's own life. And then Mrs. Abel disappears.
Some twenty years later, the narrator, who is now married, living in San Francisco and the father of two daughters, finds himself trying once again to understand what happened that summer, his psychic history rising to capture him like a deep lake current he used to swim in. He reads old letters and notebooks from the past, explores his relationship to a former lover, tries to understand through a sort of personal archeological expedition the world he once lived in and still cannot fully understand. Back in Door County once again, he tries to find out what happened to the elusive Mrs. Abel, and again he enters the deep lake waters to swim across the night.
Scattered throughout the book is the evidence of the narrator's archeological exploration of his own history, pieces of paper, old emails, quotations from poets, and references to the extraordinary and strange psychic photographer Ted Serios. This book is a sort of literary pastiche that really could exist in multiple forms and formats, reflecting the author's psychic imagination crossing over time and space through the medium of memory.
The Night Swimmers is a beautiful, complicated and challenging work of literary inspiration I found completely engaging. And it was a pleasure then, to have the opportunity to speak with Peter Rock about his fine novel.
"Peter Rock has written a weird and haunting story about a younger man and an older woman who like to swim in the dark. Happily The Night Swimmers is no male coming of age story. Instead their secret nightly practice in a dark and foreboding lake shimmers as a queer refusal for either of them to grow up right."
—Eileen Myles, author of Afterglow
I recommend visiting Rock's website, and follow the link to The Night Swimmers page, where there are some great visuals related to the book.
Peter Rock was born and raised in Salt Lake City. He is the author of several novels SPELLS, Klickitat, The Shelter Cycle, My Abandonment, The Bewildered, The Ambidextrist, Carnival Wolves and This Is the Place, as well as a story collection, The Unsettling. Rock attended Deep Springs College, received a BA in English from Yale University, and was a Wallace Stegner Fellow at Stanford University. He lives in Portland, Oregon, where he is a Professor in the English Department of Reed College. Leave No Trace, the film adaptation of My Abandonment, directed by Debra Granik, premiered at Sundance and Cannes and was released in 2018.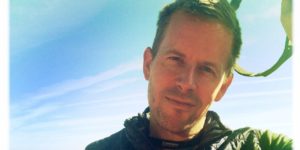 The post Peter Rock: The Night Swimmers (A Novel) first appeared on WritersCast.