Naomi Shulman: Be Kind: You Can Make the World a Happier Place!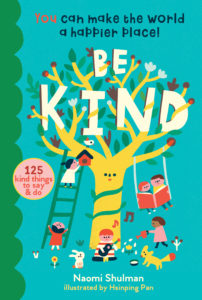 Be Kind: You Can Make the World a Happier Place! 125 Kind Things to Say & Do – Naomi Shulman – Illustrated by Hsinping Pan – Storey Publishing – 9781635861549 – Hardcover – $12.99 – June 25, 2019 – ebooks available at lower prices.
I learned about Naomi Shulman because of something she wrote a few years ago that has circulated widely. What she said resonated with my own thinking about our responsibilities as citizens:
"Nice people made the best Nazis. My mom grew up next to them. They got along, refused to make waves, looked the other way when things got ugly and focused on happier things than "politics." They were lovely people who turned their heads as their neighbors were dragged away. You know who weren't nice people? Resisters."
So I went in search of Naomi Shulman online, feeling like this would be someone I'd be really interested in talking to. I discovered she has also written this wonderful kids' book, Be Kind, and was very happy to set up a chance to talk with her about this book and her thinking about the world. One thing we did address is the big difference between being nice and being kind.
Kindness seems like such a simple thing. But it really isn't. Kindness requires empathy, connection with others, and being genuinely other directed. Kindness is something we all appreciate but recognize as not being generally practiced by so many of our fellow human beings and planetary citizens. Kindness is not passive either, as Naomi points out.
Be Kind helps parents and children aged 5 and up learn some simple, action-oriented things they can do in their daily lives to help them become active practitioners of kindness and love.
Naomi teaches kids that kindness is much more than being "nice," to others. Some of the things she demonstrates include standing up for someone or something, engaging in a community, showing compassion toward others (beings as well as humans), and expressing gratitude. The illustrations by Hsinping Pan are absolutely perfect, as is Naomi's writing. Though it's small book, there are 125 concrete activities kids and their families can pick and choose from and act out. You can be the first person to say good morning to a friend, or pay someone a compliment, help elderly neighbors with chores, maybe just learning to say hello to an immigrant in their own language, or just sending a card to someone for no particular occasion.
Be Kind empowers kids to make the world a better, kinder place, and that is nothing but a good thing. I talked to Naomi about the book, her philosophy of living and teaching, and all sorts of things relating to politics and culture. It was a fun conversation for me, and I hope one that will help all of us during this particularly challenging time.
Being kind will help us get through the difficulties of daily life. And that includes being kind to ourselves.
Be Kind was a 2019 Mom's Choice Award Gold Winner
"Be Kind is a lovely reminder that every moment can be filled with a thoughtful act of kindness. This beautifully illustrated book gives fresh and meaningful ways that each child — and adult — can make our world a happier place and prove that KINDNESS MATTERS!" — Jill McManigal, cofounder & executive director, Kids for Peace and The Great Kindness Challenge
Naomi Shulman lives with her daughters in Northampton, Massachusetts. She's now a writer and editor, formerly having worked in book publishing at St. Martin's Press, and was the research editor at Wondertime, a Disney parenting magazine. As a freelancer, she has worked in memoir, fantasy, literary fiction, mysteries, sci-fi and children's books.
You can support local bookselling, which needs your support, by purchasing Be Kind from RJ Julia Booksellers in Madison, Connecticut. They fill online orders quickly – click here to order.
More of Naomi's work can be found here.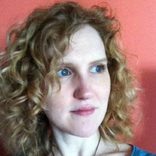 The post Naomi Shulman: Be Kind: You Can Make the World a Happier Place! first appeared on WritersCast.