Kevin Baker: The Fall of a Great American City: New York and the Urban Crisis of Affluence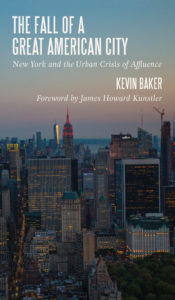 The Fall of a Great American City: New York and the Urban Crisis of Affluence – Kevin Baker (foreword by James Howard Kunstler) – 9781947951143 – City Point Press/Harper's Magazine – Hardcover – 176 pages – October 8, 2019 – eBook editions available at lower prices.
Kevin Baker has been one of my favorite writers for many years. He authored a wonderful baseball novel, Sometimes You See It Coming, based loosely on the life of Ty Cobb, but set in the modern day. I have read that book at least twice. Later, I was fortunate to work with Kevin on a project for the History Channel, and I have long appreciated his nonfiction history writing as well. When I read his essay in the July, 2018 issue of Harper's Magazine, where Kevin often publishes on current affairs, called The Death of a Once Great City, I felt strongly that this story needed to be read as widely as possible. Kevin's perceptive observations about New York City and its modern real estate-based problems, resonated with my own experience of the direction that modern American culture is moving. His piece seemed to me important enough to be made into a book.
Harper's John MacArthur and Lynn Carlson agreed with my thinking, and together with Kevin, we worked out an arrangement for publication of an expanded and enhanced version of Kevin's original essay to be published in book form by my imprint, City Point Press. I am very pleased to have been able to work with Kevin and Harper's on what is now called The Fall of a Great American City: New York and the Urban Crisis of Affluence.
This is the story of what is happening today in New York City and in many other cities across America. It is about how the crisis of affluence is now driving out everything we love most about cities: small shops, decent restaurants, public space, street life, affordable apartments, responsive government, beauty, idiosyncrasy, each other. This is the story of how we came to lose so much—how the places we love most were turned over to land bankers, billionaires, the worst people in the world, and criminal landlords—and how we can – and must – begin to take them back.
I think this is an important story and hope my listeners will agree. I do not usually talk to writers about books I have published myself for Writerscast, as I do not want this podcast to be about the books I publish rather than the books I read. But in this case, since I came to this book through the original essay that I did read, I think it is meaningful to present my conversation with Kevin for your listening enjoyment.
Kevin is a terrific writer, and this book presents a strong case for rethinking our approach to modern urban life. New York, San Francisco, Los Angeles, Chicago, Boston, and many other cities are all suffering through the same sorts of real estate crises. I was not alone in being moved by Kevin's piece in Harper's – the magazine has reported that the original essay was one of the most read of all pieces it has ever published and has "gone viral" online to reach a vast audience.
This story affects us all and challenges us to rethink how we approach the public good.
Kevin Baker grew up in Rockport, Massachusetts, graduated from Columbia University in New York City in 1980, and since then has earned his living as a writer and editor. Dreamland, part of Baker's New York' City of Fire trilogy was published in 1999, Paradise Alley issued in 2002, and the third and final volume of the trilogy, Strivers Row, was published in 2006. Kevin was the chief historical researcher on Harold Evans' best–selling history, The American Century, published in 1999. He wrote the monthly "In the News" column for American Heritage magazine from 1998-2007, and has been published in the New York Times, the New Republic, Politico.com, New York magazine, the Washington Post, the Chicago Tribune, the Los Angeles Times, and of course, Harper's magazine, among other publications. He is a 2017 Guggenheim Fellow for nonfiction. Kevin is married and lives in New York City.
You can purchase books featured on Writerscast from indie bookseller, RJ Julia. Buy The Fall of a Great American City here.
Visit Kevin Baker's website here.
Visit City Point Press here.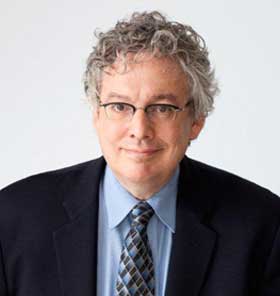 The post Kevin Baker: The Fall of a Great American City: New York and the Urban Crisis of Affluence first appeared on WritersCast.