Helen Zuman: Mating in Captivity [A Memoir]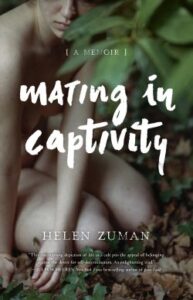 Mating in Captivity: A Memoir – Helen Zuman – 9781631523373 – She Writes Press – paperback – 248 pages – May 8, 2018 – $16.95 – ebook versions for sale at lower prices
When I was in my younger hippie Whole Earth Catalog reading period of life, I became intensely interested in communes and alternative social structures, what are now often called "Intentional Communities." Such utopian constructs have been in existence in America for many years (think about the Shakers in the 19th century) and the dream of a better way of living together than nuclear families persists to this day. I spent a couple summers on a working farm commune in Oregon, and over the years have studied and thought about the challenges and rewards of these communal work and living communities. Given the stresses that modern corporate capitalism places on individuals and families, it makes sense for us to explore different structures, despite the complexities of living together after the common experience of growing up in much narrower family units.
When Helen Zuman graduated from Harvard, searching for a better way to live, she too wanted to learn about and explore alternative intentional communities. After considering a variety of options, and getting a fellowship to study alternative structures, she moved to the North Carolina-based Zendik Farm in 1999. Initially she was unsure of whether it would be the right place for her, but it did not take her long to feel that she belonged. She gave the commune all her money and made the commitment to become a full time, permanent member of what she believed was a meaningful alternative to what the members called "dealthculture" – meaning anyone outside of the group itself. For her, as a inexperienced social being, the Zendik experience, based on sharing work, love, life and sex, made sense. But it turned out that the lived experience of the farm commune was not quite what it seemed, and without realizing it, Helen had become a member of a personal cult run by Arol, the Farm's matriarch, who manipulated and controlled the members to meet her own needs at the expense of all else. Mating in Captivity is an illuminating and compellingly personal story of how a person can become a member of a cult, so simple, and then how one can escape, so difficult.
It's ironic that the widespread desire for redefining social structures created by the tensions of modern capitalism has so often led to such fraught and misshapen group think. But Helen's story is actually an optimistic one, as she was able to come through this experience and to make a life for herself that is, in fact, meaningful and defining outside the narrow structures laid down for us by the imperatives of industrial life.
This is Helen Zuman's raw and honest confession and exploration of how a cult works and what it takes for an individual to escape one, and become her truer self. Mating in Captivity shows how cults work and both why people join and how they must escape in order to grow into fully functioning beings. I really admired her honesty throughout, and her storytelling is adept and strong. It's a terrific memoir and one that readers of all kinds will appreciate.
Despite the ways in which things go off the tracks for us all too often, we can and must hope that a meaningful form of communalism is possible. If humans are going to live sustainably on this planet, it is likely a necessary adaptation for us to make.
"Just as the Zendik community, a cult, pulled Helen Zuman in and held her, her account of her time there will pull you in and hold you. Her clear-eyed observations of her fellow idealists—and of herself—are honest, compelling, and sophisticated."
–Daniel Menaker, author of My Mistake: A Memoir
"How timely, how telling this story of an inexperienced young woman who fell prey to a cult because of the abuse to which she'd been subjected by male strangers. Only within the fold, where there were rules protecting the women, did she feel safe enough to explore her sexuality and learn to love. So she surrendered her possessions, her will, her youth. Read Mating in Captivity as a cautionary tale, one I hope will spark a desire to create a better world for our daughters."
–Leah Lax, author of Uncovered: How I Left Hasidic Life and Finally Came Home
Mating in Captivity, which she calls "a cult memoir for smart people" is Helen's first book. It was named a Kirkus Best Indie Memoir of 2018, was a finalist in Creative Nonfiction for the Community of Literary Magazines and Presses' 2019 Firecracker Award, and was both first runner-up in memoir and a finalist for First Horizon and Grand Prize honors in the 2020 Eric Hoffer Awards. Other work has appeared in The New Farmers Almanac, in Communities and Livelihood magazines, and on the Foundation for Intentional Community's website. She was born in London and raised in Brooklyn, and with her husband, Helen currently homesteads near the Hudson River in Beacon, New York.
Helen and I had a terrific and broad ranging conversation. I also recommend reading her post, linked above at the Foundation for Intentional Community site.
Buy the book on Bookshop.org and support independent bookstores!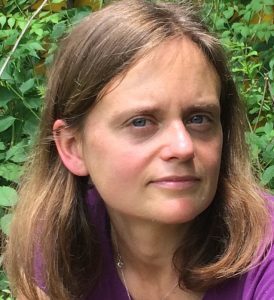 The post Helen Zuman: Mating in Captivity [A Memoir] first appeared on WritersCast.