Fenton Johnson – At the Center of All Beauty: Solitude and the Creative Life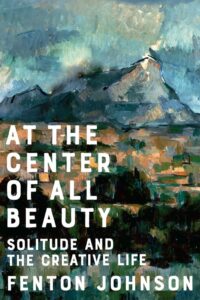 At the Center of All Beauty: Solitude and the Creative Life – Fenton Johnson- 9780393608298 – W.W. Norton – Hardcover – 256 pages – March 10, 2020 – $26.95 – ebook versions available at lower prices
So much of the pleasure of conducting this podcast for all these years has been (and continues to be) the discovery of new writers and books, that so deeply nurture my inner being. Discovering Fenton Johnson's writing during the pandemic, where I have been spending most of my time alone or with just my immediate family, has been both apt and especially rewarding. I want to thank my cousin, Fred Hertz, for introducing me to Fenton and his work. I am especially interested in this book, as it is about the inner lives if writers, artists and musicians, their thought processes and creative lives, Fenton Johnson's perspective on creativity and the artistic journey should resonate with us now more than ever.
Fenton is an outstanding writer, whose prose flows like a slow moving brook through the woods. I am really surprised not to have known about his work before now. Now, having read this most recent very personal memoir, I am adding his other works of memoir, and his fiction to my long term reading list.
But back to this book. In At the Center of All Beauty, Fenton explores the lives and works of nearly a dozen writers, painters and singers, those he feels most close to in his own life and work. He calls them "solitaries," and links them to members of his own family, friends he knew growing up, his life, his lovers, his loves.  He rightly questions the dominant cultural narrative we all absorb that coupling is the highest and best way to live. Of course there is a long and celebrated tradition in the West of creatives who must separate themselves from others in order to be themselves, and this clearly is a crucial story for anyone involved in trying to create.
Fenton devotes chapters to Thoreau at Walden Pond, Emily Dickinson in Amherst, the great Bill Cunningham photographing in the streets, Cézanne repeatedly painting Mont Sainte-Victoire and Zora Neale Hurston, Nina Simone, and several other exemplars of the creative solitary life. Each of these stories relate back to Fenton's own journey, first growing up in Kentucky near the famous Gethsemane monastery (best known as home to Thomas Merton,) his father and mother, also both solitary souls despite their family lives, and then  later living in San Francisco in the time of AIDS, to now, where in late middle age, he finds himself solitary and at peace with all that it means to be both alone and completely connected to the world around him.
This book is full of wisdom, of beauty, and of language that helps us go beyond our daily perceptions into our own stories of self and meaning. You can read this book as a narrative or perhaps as well, use it as an inspirational spur to personal meditation on self and beauty.
It was truly a pleasure to read At the Center of All Beauty and also to have the opportunity to speak with Fenton about this book. To illustrate life during Covid-19, while we happened to both be in Tucson, Arizona this spring, Fenton delivered the book to me, both of us wearing masks, in the local post office parking lot, and we conducted the interview via Skype, despite being less than two miles apart from each other on the day we talked.
Aside from At the Center of All Beauty: Solitude and the Creative Life, Fenton Johnson is the author of three novels: The Man Who Loved Birds, Scissors, Paper, Rock, and Crossing the River, each of which have been reissued in new editions. He has also published two previous memoirs, Geography of the Heart: A Memoir and Keeping Faith: A Skeptic's Journey among Christian and Buddhist Monks and an essay collection Everywhere Home: A Life in Essays.
Geography of the Heart received the American Library Association and Lambda Literary Awards for best LGBT Creative Nonfiction, and Keeping Faith received a Lambda Literary and Kentucky Literary Award in Creative Nonfiction. He was recently featured on NPR's Fresh Air and writes for Harper's Magazine.
Fenton is professor emeritus at the University of Arizona and teaches creative writing workshops nationally. He is on the faculty of the low-residency creative writing program of Spalding University.
Support local booksellers! Buy At the Center of All Beauty from independent bookseller RJ Julia.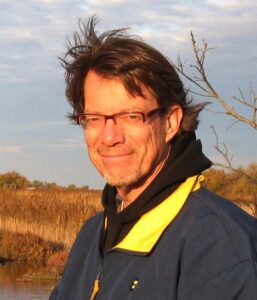 The post Fenton Johnson – At the Center of All Beauty: Solitude and the Creative Life first appeared on WritersCast.