Even as We Breathe, A Novel: Annette Saunooke Clapsaddle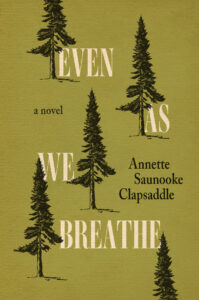 Even as We Breathe, A Novel – Annette Saunooke Clapsaddle – 9781950564064 – University Press of Kentucky – Hardcover – 240 pages – September 2020 – $24.95 – ebook versions available for sale at lower prices
This has been a good year to read fiction, and I am really pleased to have discovered this author. She is a fine writer whose storytelling is powerful, yet restrained.
While this novel has some elements of a mystery, it is really a very personal story about family, love and growing up into the world of western North Carolina during World War II. The book's main character is nineteen-year-old Cowney Sequoyah, who has grown up in the woods of Cherokee land, raised mostly by his grandmother. The novel is set between the upscale Grove Park Inn, an Asheville resort serving as an internment camp for diplomat prisoners of war and their families.
The Inn provides Cherokee men and women with employment off their reservation, and this is Cowney's first real time away from home. At the core of the story, Cowley is accused of being involved in the disappearance of a diplomat's daughter and must move back and forth to home as he attempts to understand the basis of the the unfair accusations, and prove his innocence while at the same time wrestling with his newfound love for another young Cherokee, Essie Stamper, and figuring out his complex family history.
There is alot going on in this subtle and quietly told novel! And a number of surprises are in store for the reader that bring the story to a remarkable and rewarding close.
Even As We Breathe is filled with details and moments that identify the Cherokee tribe and its homeland. The story gives Annette the opportunity to express the meanings of the Cherokee culture as it has survived into the modern world, sometimes still with the values of its people in conflict with the world of white people.
A secret room in the Grove Park Inn becomes a place where Cowney and Essie can escape the white world and try to imagine their futures independent of outsider influences. For awhile, it can feel to them that they have a place of their own. But racism and prejudice are constantly present, and both Cowney and Essie must face disappointment, and struggle to define their identities as Cherokees within a complicated environment that does not give them the space they truly need to be themselves.
Annette Saunooke Clapsaddle, an enrolled member of the Eastern Band of Cherokee Indians (EBCI), graduated from Yale University and has a masters from the College of William and Mary. Her unpublished novel, Going to Water won the Morning Star Award for Creative Writing from the Native American Literature Symposium and was a finalist for the PEN/Bellwether Prize for Socially Engaged Fiction. After serving as Executive Director of the Cherokee Preservation Foundation, Annette (National Board Certified since 2012) returned to teaching English and Cherokee Studies at Swain County High School. She is the former co-editor of the Journal of Cherokee Studies and serves on the Board of Trustees for the North Carolina Writers Network.
"Debut writer Annette Saunooke Clapsaddle lifts the curtain to show us a South we don't know, revealed through the struggles of Cowney Sequoyah, a young man growing up within the Cherokee Nation of far Western North Carolina, and yet another surprise setting when he takes a job at Asheville's fabled Grove Park Inn while it is being used by the US military as a place of internment for Axis prisoners of war during World War II. Even As We Breathe is a wonderful novel, complicated as life itself — thrilling, mysterious, and finally, a revelation!" — Lee Smith, New York Times bestselling author of Blue Marlin
This novel was impossible for me to put down and is one of my favorite books I have read this year. It was a deep pleasure for me to speak with Annette about this book and her writing.
I believe you will enjoy this conversation as much as I did.
Purchase Even as We Breathe from Bookshop.org to support independent bookselling.
Author's website here.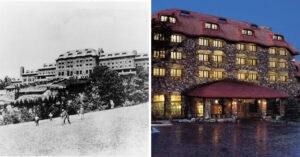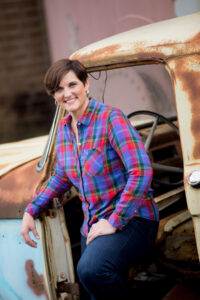 The post Even as We Breathe, A Novel: Annette Saunooke Clapsaddle first appeared on WritersCast.