Erica Wagner: Chief Engineer: Washington Roebling, The Man Who Built the Brooklyn Bridge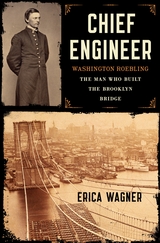 Chief Engineer: Washington Roebling, The Man Who Built the Brooklyn Bridge – Erica Wagner – 9781620400524 – Bloomsbury – Paperback – 384 pages – $18 – February 5, 2019 – ebook versions available at lower prices
"A welcome tribute to the persistence, precision and humanity of Washington Roebling and a love-song for the mighty New York bridge he built." – The Wall Street Journal
It is surprising to learn that Washington Roebling, builder of the Brooklyn Bridge and a major contributor to American industrialism of the late nineteenth and early twentieth century, has never had a full biography before this one, written by the excellent essayist and critic, Erica Wagner. I found her account of Roebling's life story completely compelling. His relationship with his famous father, John Roebling, his experience and important role in the Civil War, and the amazing years-long effort to build one of America's most iconic – and still fully operational – bridges, is brilliantly set forth by Wagner. She documents the important involvement of Roebling's brilliant wife, Emma Warren Roebling is the completion of the bridge after Roebling's health was compromised by illness, and gives us a portrait of an extraordinary and representative American life.
Frequently confused with his more famous father, Roebling has been forgotten or ignored by many. Yet his life holds interest for modern readers for a variety of reasons. His story is very much an American one – his family emigrating from Germany, living on the early 18th century American frontier, fighting in the Civil War, and becoming a key figure in the establishment of a modern American industrial society. We learn that Roebling was himself surprisingly self aware psychologically, a constant observer of his own and others' human nature, how much he suffered both physically and psychologically, wounded by the abuse of his powerful father, and how he overcame so many obstacles to live a long life, adapting to the rapid pace of social and business life during a remarkable period in American history.
Erica Wagner uses Roebling's recently discovered personal memoir to reveal much about his life that cannot be understood simply from documenting the major events of his life and the built artifacts he left behind. Roebling's achievements are significant. Wagner's achievement is that she brings this relatively unknown and complex man and his family to life in prose, a wonderful gift to readers.
American writer and critic Erica Wagner was the literary editor of the London Times for seventeen years and is now a contributing writer for New Statesman and consulting literary editor for Harper's Bazaar. Her work has appeared in the Guardian, the Economist, Financial Times, and the New York Times, among other newspapers and magazines. She is the author of several books, including Ariel's Gift, Seizure, and a collection of short stories called Gravity. She lives in London. It was a great pleasure for me to speak with her about this excellent book, and I hope Writerscast listeners will want to seek out and read this book as well.
"A masterful work of research, revelation and gripping narrative. It brings to pulsating life 19th-century New York and New Jersey and manages to be moving, too." ―New Statesman, "Books of the Year"
The post Erica Wagner: Chief Engineer: Washington Roebling, The Man Who Built the Brooklyn Bridge first appeared on WritersCast.