Blackwood: A Novel by Michael Farris Smith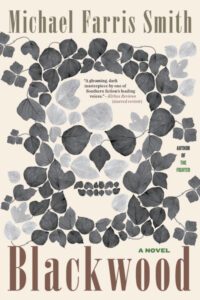 Blackwood: A Novel – Michael Farris Smith – 9780316529815 – Little Brown – Hardcover – 256 pages – March 3, 2020 – $27.00 – ebook versions for sale at lower prices
This is pretty much a stunningly written book. I discovered the writing of Michael Farris Smith serendipitously through the southern culture magazine, Garden & Gun. I read a short piece they published called "How a Steadfast Pup Helped an Author Find His Voice," which is just a fantastic work of personal memoir. That one essay prompted me to learn about Smith and to get a copy of his latest book. Yes, this is how literary discovery works today. There are so many good writers in the world, and we are blessed with a plethora of books to read. But at the same time, how do we find out about them? I had not heard of Michael Farris Smith before. Blackwood is his fifth book, and his work has been well reviewed and praised by writers whose opinions I respect. I was surprised I had never run across his work before, and pleased I did.
I started reading Blackwood without knowing very much about this writer or his past work, or the kinds of stories he tells. There is no doubt that Blackwood can be pretty dark at times – funnily, it reminded me of the great Netflix series, Stranger Things – though much more powerful in the way that only fiction can convey mystery. It can be scary at times, and there are characters in this book who are just terrible, dangerous figures. I don't think you have to be a southerner or to have lived in the south at all to appreciate this book, or the kinds of people who inhabit the fictional Red Bluff, Mississippi, but it helps, I am sure, as the landscape and the mysteries Smith explores are very much "of the South" and the pain and suffering that resides in its countryside. That suffering is an integral element of the history of the people and the land that is palpable in this novel. The collection of characters is interestingly diverse, combining a bit of Faulkner with a touch of Stephen King, it seems.
I tend to think of this book as a novel of magical realism that taps into a mysterious darkness that inhabits the land itself. It is chthonic – almost literally. There is a part of this novel that is mythic, subliminal, deeply psychic in a wounded way, and the people who live in this strange place have become part of the mystery and part of the land as well. I wondered at times if Smith is telling a story that even he may not fully understand, almost like a Druid priest channeling voices from another reality. The book is very powerful, and that power makes it difficult sometimes to get your bearings, as a reader, you can feel outside the realm of your own experience enough that you must allow Smith's language to transport you to this other place, and dream alongside and almost within the author's psyche.
Some of the words used by reviewers come to mind – "brutal," "supernatural," "startling,". All are accurate. I felt the pain of this novel deeply. And yes, it is a southern novel, but that should not ever be considered a limitation. This is just a great novel that happens to be set in the south.
I am really pleased that I discovered Blackwood and the work of this compelling writer, Michael Farris Smith. I'd like to especially thank the magazine Garden & Gun for doing what they do so well — exploring and expounding on modern southern culture. And thanks to Michael Farris Smith for taking the risk to write this difficult book, and for talking to me about it. We had a great conversation together.
"Lurking over Blackwood is a family of itinerant grifters—a version of Faulkner's Snopes clan, forces of chaos, human kudzu except for the youngest of them, a mysterious boy in whom Colburn sees his young self. As in the best noir, A soul-strangling inevitability hangs over Red Bluff, yet somehow Smith gives his doomed characters a dignity in the face of forces well beyond their control." Booklist (starred review)
Michael Farris Smith website.
Buy the book at RJ Julia Booksellers.
The post Blackwood: A Novel by Michael Farris Smith first appeared on WritersCast.