Arthur Phillips: The King at the Edge of the World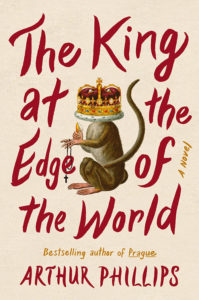 The King at the Edge of the World – Arthur Phillips – 9780812995480 – Random House – Hardcover- 288 pages – $27.00 – February 11, 2020. Ebooks available at lower prices.
At Writerscast, there is a strict rule that I only talk to authors whose books I like. So every book that appears here is one that I truly enjoyed reading. Given that fact, it is important to note that Arthur Phillips' novel, The King at the Edge of the World, is a book I loved reading. It is a great story by a writer in full command of his craft.
I hate giving away plot so I won't even come close to doing that. Suffice to say, this book takes place at the end of the Elizabethan era (the first Elizabeth, that is). It involves a series of events that lead inexorably to a glorious and satisfying conclusion, beginning with the arrival of a Turkish doctor to England as part of a diplomatic mission and going through a series of sometimes unfortunate and even tragic events. What develops from this quiet beginning is what makes this book so pleasurable to read. And it is full of ideas, ruminations, wonderful characters, all woven together to create a fabric that wraps around you like an old and very comfortable shawl.
"The book is a delightfully rich fruitcake and an old-fashioned pleasure to read; its plot is an intricate set of intersecting mechanisms and locks and keys, which, when they finally all fall into place, provide the reader with the gawping satisfaction of having been well and truly fooled," Dominic Dromgoole writes in his review. "Simply writing for the reader's pleasure seems to be increasingly rare these days, and to pick up a book like The King at the Edge of the World, which contains teasing philosophical and theological ideas within an unapologetic entertainment, is a small mercy for which much gratitude is due."
A New York Times Editor's Choice selection
I've spoken to Arthur before. In 2009 – so long ago, it seems – we talked about an earlier novel of his, The Song is You, another wonderful book. Arthur is a distant relative of mine and it is a wonderful thing to have such a terrific writer in the family.
Arthur Phillips was born in Minneapolis and educated at Harvard. He has been a child actor, a jazz musician, a speechwriter, a failed entrepreneur, and strikingly, he as been a five-time Jeopardy! champion.
His first novel, Prague, was a New York Times Notable Book, and received the Los Angeles Times/Art Seidenbaum Award for best first novel. His second novel, The Egyptologist, was an international bestseller in 2004. His third novel, Angelica, made The Washington Post list of best fiction of 2007 and that paper called him "One of the best writers in America." The Song Is You was a New York Times Notable Book, and Kirkus wrote, "Phillips still looks like the best American novelist to have emerged in the present decade." His fifth book, The Tragedy of Arthur, was published in 2011 to critical acclaim, and like its predecessors, and was named a New York Times Notable Book.
The play taken from that book received its world premiere reading at New York's Public Theater in 2011 and became a full stage production in 2013, under the auspices of the Guerrilla Shakespeare Project. His short story, Companionship, was adapted into an opera by Rachel Peters and debuted at the Fort Worth Opera in 2019.
The film version of Angelica was released in 2015, and other films based on his work are currently in development. His work has been published in twenty-seven languages.
He has written for television, including Damages (FX/DirecTV), Bloodline (Netflix), Tokyo Vice (HBOMax) and he has further television pilots in development.
Arthur lives in New York City with his two sons.
Reading Arthur Phillips novels is always a deep pleasure for me. Talking to Arthur Phillips about his writing is similarly always a pleasure.
Learn more about Arthur Phillips at his website.
The wonderful bookstore, RJ Julia, in Madison, Connecticut, carries all the books we talk about here. You can purchase a copy of The King at the Edge of the World from them right here.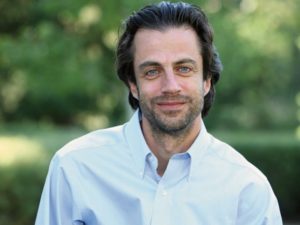 The post Arthur Phillips: The King at the Edge of the World first appeared on WritersCast.