American Gospel, A Novel: Lin Enger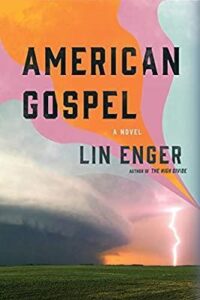 American Gospel, A Novel – Lin Enger – 978-1-5179-1054-9 – University of Minnesota Press – Hardcover – 248 pages – October 27, 2020 – $24.95 – ebook versions available for sale at lower prices
I read Lin Enger's last novel, High Divide, a few years ago and was really taken with his writing and the mythic fictional structures he loves to tell. Storytelling is certainly humanity's oldest art form. We use stories to explain ourselves to ourselves. Lin seems to breathe storytelling like air. His new novel is very different than his earlier books, at least that it is set more or less in modern times and in northern Minnesota, a place that Lin is completely familiar and comfortable with.
American Gospel begins in 1974 while the rest of the country is fixated on the Watergate scandal, on a north woods Minnesota farm, where Enoch Bywater, a self-styled preacher has had a vision of the Rapture. It is all so real for him, he believes that the end of the world is about to be upon us. His millennial dream is shared by his followers, and then as word spreads about the impending end of the world, his Last Days Ranch attracts a polyglot of dreamers and believers in a completely American quest for emergence.
Enoch's son, estranged both from his father, and from Minnesota, is an aspiring reporter with his own dreams and ambitions who is attracted back home by the potential for a big story – and the possibility of reconnecting with his high school love who is now a Hollywood star, the biggest thing to ever happen to their small rural town.
And there is still more intrigue involving other characters with their own complex agendas, and the backdrop of the denouement of the Nixon saga.
Lin Enger enjoys telling stories that involve men and their fathers. And he is taken with mythological, almost Jungian figures. In this book we have father figures of all kinds – God, the president, the preacher, and even his son. The psychic wounds of America are on full display and the resonance with our current time is unmistakable.
Enger is a compassionate and perceptive writer whose prose is clean and clear. He plainly loves to shed light on who we are and what we must do in order to live together as humans in a complex, disparate modern world. American Gospel is a quietly brilliant novel that I hope will find a large audience.
Lin Enger grew up in Minnesota and now lives in Moorhead, where he teaches English at Minnesota State University. He's won many awards for his fiction, which include the novels, The High Divide (2014) and Undiscovered Country (2008). During the 1990s Lin and his brother, the novelist Leif Enger collaborated (as L. L. Enger) on a series of mystery novels for Pocket Books.
I always enjoy speaking with Lin. We had a terrific conversation about this book, and much more for this podcast episode. I hope you enjoy it as much as I did.
Author's website is here.
You can buy American Gospel from Bookshop.org.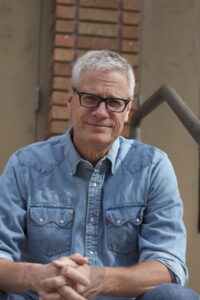 The post American Gospel, A Novel: Lin Enger first appeared on WritersCast.