Adina Hoffman: Ben Hecht: Fighting Words, Moving Pictures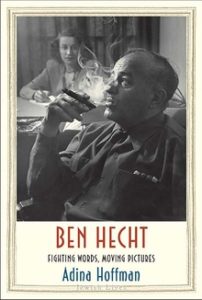 Ben Hecht: Fighting Words, Moving Pictures – Adina Hoffman – 9780300180428 – Yale University Press – Hardcover – 264 pages – $26 – February 12, 2019 – ebook versions available at lower prices
I grew up in a family where the movie business was in our blood, and part of the conversations of everyday life, so I have long known about – and appreciated – the amazing screen writing of Ben Hecht. Hecht's many screenplays in many ways established and defined what is now standard movie practice. He wrote some of the greatest and most watched films in history, and made a well paid career out of "doctoring" other writers' scripts. Hollywood was his reluctant artistic base for many years, though he would never be completely comfortable there.
Reading this very comprehensive, but highly readable biography by Adina Hoffman, brought Hecht's life and work into focus for me for the first time. Hecht's story was that of a classic 20th century second generation Jewish immigrant. He was raised in Wisconsin, made his way to Chicago, became a newspaper writer and then a novelist in the glory years after World War I, where he helped create and define the literary scene in that great city, before moving to New York, where he truly established himself as literary star.
Hecht and Charles MacArthur together wrote the now-classic play, The Front Page, becoming writing partners and pals for many years thereafter. Some of Hecht's most famous screenplays include Scarface, Gone with the Wind, Stagecoach, Notorious and His Girl Friday. Hecht worked on literally hundreds of films, was a powerful enough writer to be able to be given the opportunity to produce four films with MacArthur (a mis-adventure described wonderfully by Hoffman). Hecht worked with some of the greatest directors, producers and actors in 20th century film. His work literally defined what a Hollywood movie could be, and much of what we think about 20th century American culture is derived from his cynical, yet optimistic worldview.
Hecht's many novels and nonfiction books are not widely read or known today, and according to Hoffman, who has read them all, some are lost to literary history for good reason. Still, it is quite possible that this fully formed biography with its clear eyed evaluation of Hecht as passionate human, brilliant intellect and outstanding writer, will help their cause. For myself, I have made a commitment to read at least one or two of the books that Hoffman tells us are important enough to seek out, including at least one novel. I have thought about reading Hecht's very early novel Fantazius Mallare: A Mysterious Oath, even though Hoffman pretty much dismisses it, except for one great sentence that is said to have inspired Ginsberg's Howl. But it is his autobiography, A Child of the Century that calls out to me the most, and that I will be reading soon.
Though he was decidedly a non-secular Jew during World War II, Hecht rediscovered his Jewish identity and became a powerful public voice pressuring American politicians to save the Jews of Europe. After the war, Hecht's Zionism led him to support the nascent Jewish state of Israel with the burning fervor of a convert, his trademark enthusiasm focused on building a safe haven for Jews, which ironically, he never visited. Hecht, as Hoffman shows us, was a complicated human being – and frequently an unforgivable one as well.
Ben Hecht was emblematic as the "child of the [20th] century" who helped to define modern Jewish America and modern popular culture. Adina Hoffman is a terrific writer and a gifted storyteller, perfectly suited to tell this story. Thanks to Yale University Press for creating an absolutely beautiful book, one that serves her writing well, and makes reading it a better experience.
Adina Hoffman is an essayist and biographer who splits her time between New Haven and Jerusalem. Fortunately, she was in New Haven when I wanted to talk to her about this book and the work that went into it. Hoffman is the author of four books, including Till We Have Built Jerusalem: Architects of a New City and My Happiness Bears No Relation to Happiness: A Poet's Life in the Palestinian Century. She was a film critic for the American Prospect and the Jerusalem Post, and was a founder and editor of Ibis Editions, a small press devoted to the publication of the literature of the Levant. She has been a visiting professor at Wesleyan University, Middlebury College, and NYU, and was notably one of the inaugural (2013) winners of the Windham Campbell prize. Read more about Adina and Ibis Editions here.
And you can find a good bibliographical of Hecht's work here.
Note to listeners, this interview was recording live in a room with a bit of echo, so apologies to all for the sound quality.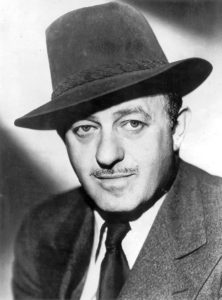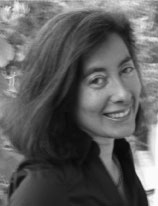 The post Adina Hoffman: Ben Hecht: Fighting Words, Moving Pictures first appeared on WritersCast.